Pooja Raichur
UX designer
The story
In February 2021, my family was looking to get a family member on the waiting list for the vaccine. We made a phone call and left a message with the phone number provided on NY state's website. I realised that there was no app to facilitate the process, explain the process and schedule appointments.
That's where I saw a need for such an app, and that's how this concept project came about.
My Solution
My solution has three main functions:
Information on Vaccines (know them before you schedule them),

State's requirement to check eligibility - a questionnaire

Scheduling the appointment in an available center of your choice.
​The design provides users with the ability to find what they are looking for and even read text more easily due to improved contrast, visual hierarchy, and accessibility.
My Role
Product strategy


User research & Analysis


Wireframes


UI Design & Prototyping


Usability Testing
Problem definition & Research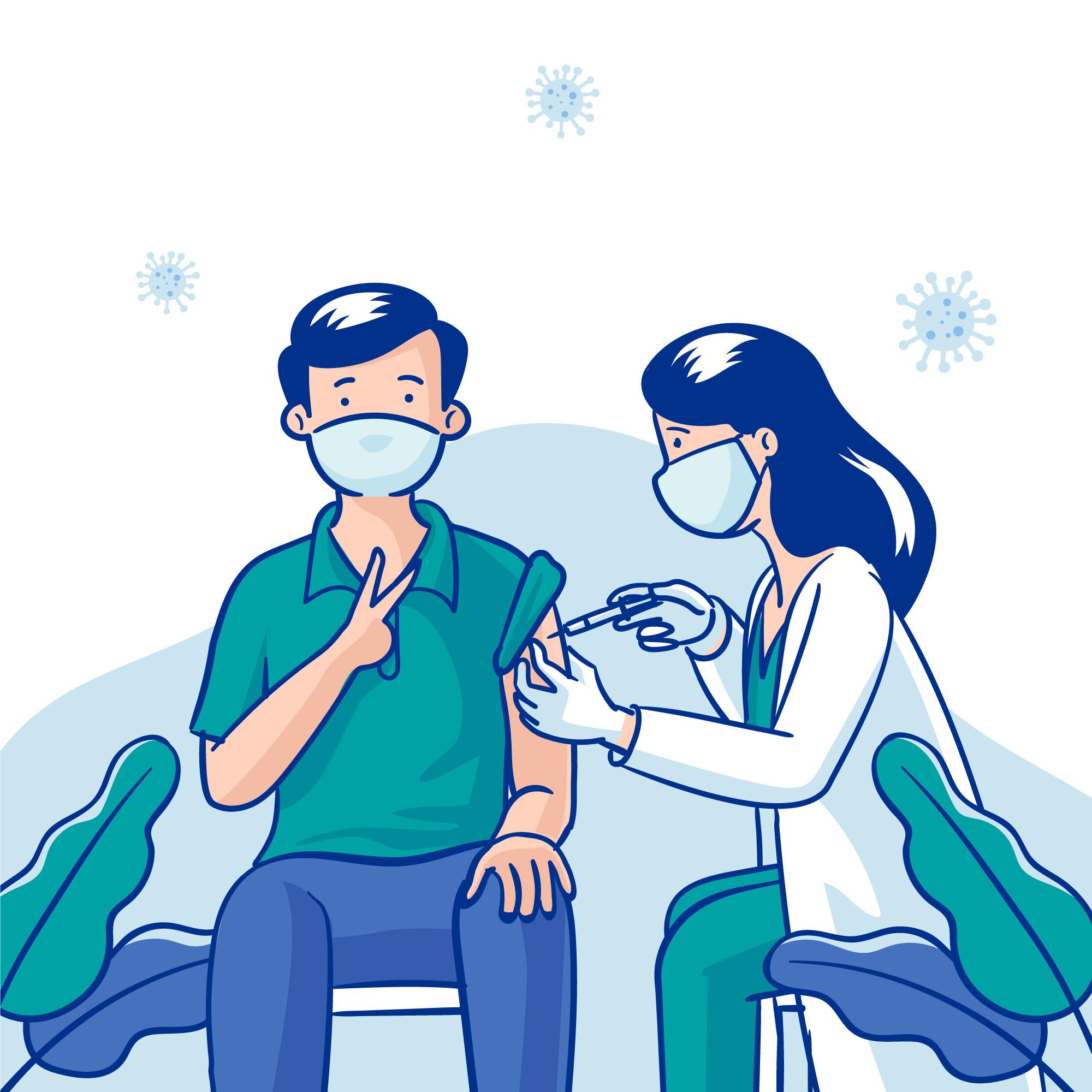 Problem statement
How might we make it easier for users to make an informed decision about the COVID 19 vaccine and to locate centers & schedule appointments in their area?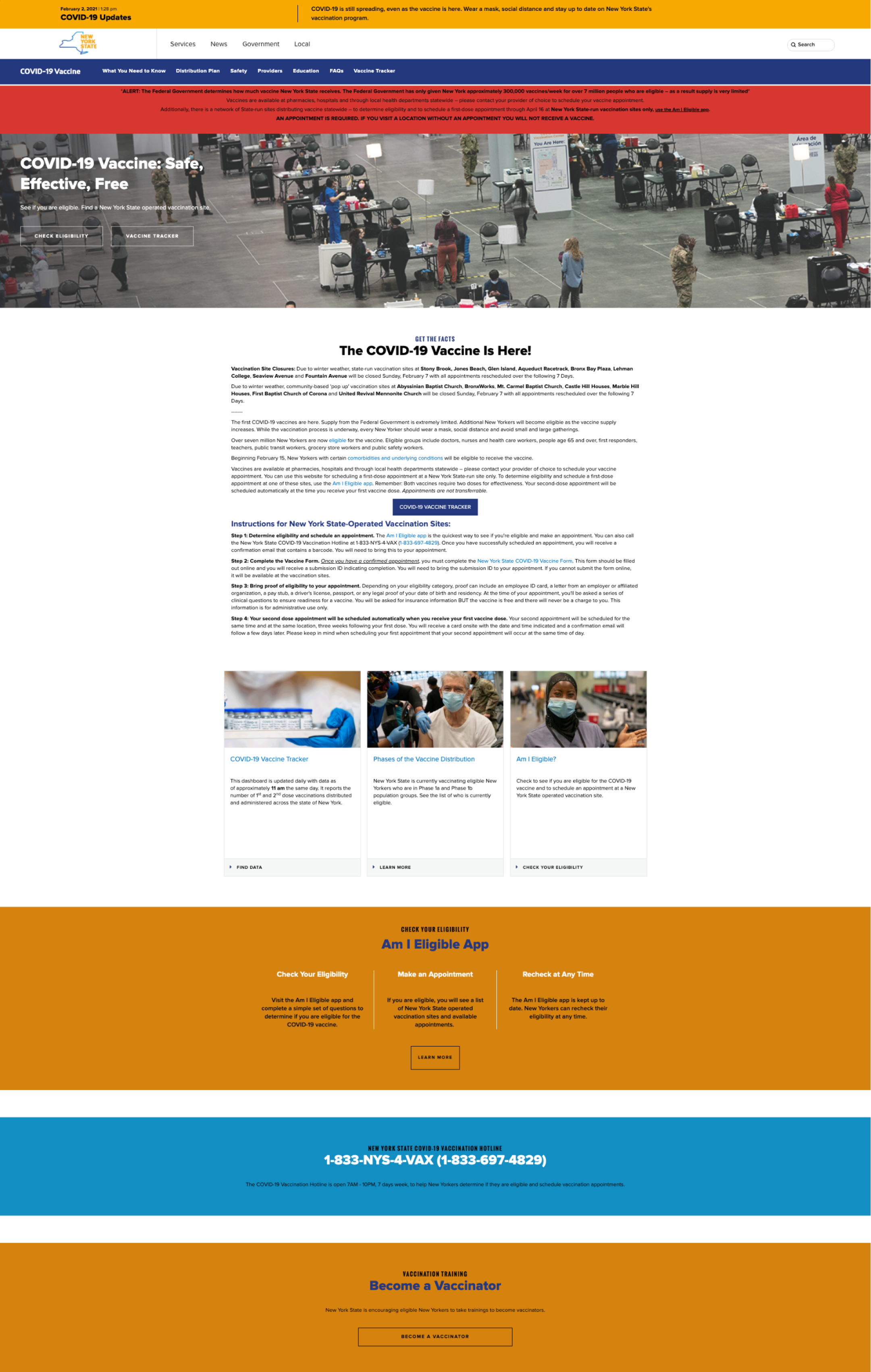 Analysis of current NY State website:
Too many colors and the roles of colors are unclear, causing confusion.

Lengthy text making it difficult to locate information.

Lack of visual hierarchy.

Vital information is buried in links in the website.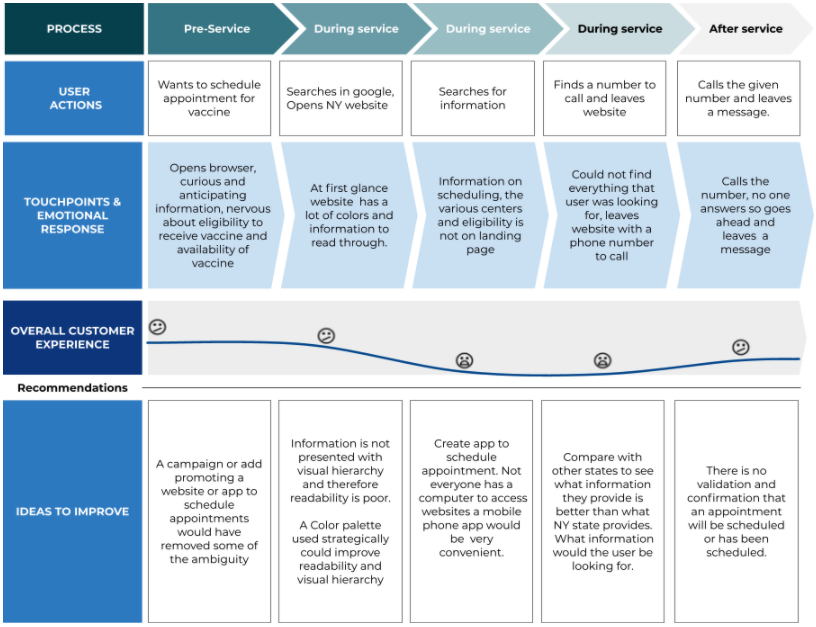 User Journey Map
In order to understand how the process works currently and what the user experiences I followed a person as she proceeded to make an appointment for the vaccine. A journey map was created for visualization of the process that a user goes through in order to accomplish the goal of scheduling a COVID-19 vaccine appointment.
Ideally this would then be used to get buy-in from stakeholders on why this app is required, but since this is a project involving only me, I proceeded to the next step.

Competitive analysis
To compare content and visual design a competitive analysis was conducted.

The websites are not solely designed to schedule appointments hence there is a large amount of information displayed on each website.

NJ's and CT's websites presented information in cards which improved readability.

The monochromatic color palette on both NJ and CT websites reduces distractions & helps user to focus on information.

There was no information on how to schedule appointments, what the criteria are for eligibility and where the centers are.

There is no mobile app to schedule appointments in the tri state area.

Wireframes
I started by drawing sketches of screens, the flows and what functions they will have. The purpose was to brainstorm ideas.
The main three functions that were required were:
Information on vaccines.

Eligibility questionnaire

The third and main purpose of the app is to schedule the appointment.
Following that I created wireframes which could then be tested. From here, I ran user tests with 5 people to validate the efficacy of my designs.
Outcome
80% of testers (4/5) agreed that an app to schedule appointments would be convenient. It would be used by them or near & dear ones to verify eligibility and 100% of testers said the app is simple to use and would be very helpful.
User testing consisted of 5 testers known to me. It was a simple moderated test with the following responses:
4 out of 5 testers thought that the app helped them make an informed decision about vaccines.
5 out of 5 thought that the app was easy to navigate and use, read and was more engaging than the state website.
1 out of 5 thought that it would be helpful to know which vaccine was being registered at each center.
Lessons learned & next steps
With so much unknown, so much fear about the vaccines over the period of a year, it was vital to provide as much information as possible to people who wanted to take the vaccine. Users said that the convenience of locating centers, their address and distance, and checking availability of times at each center are very helpful.
The next step would be to work with developers to code this app. Testing a coded prototype would have been as close to an app as possible.