Pooja Raichur
UX designer
My Role
UX Designer ( identifying the problem through research, ideation, UI design, prototyping, and testing)
Tools
Figma for wireframing, mockups, and prototypes.
Timeline
1st iteration & research 1 month, 2nd and 3rd iteration was a couple of weeks long.
1 in 5
adults have experienced mental health illness
1 in 25
adults have experienced serious mental health illness
16%
of suicides in US occur in response to financial problems
People with mental health problems are already more likely to be debt-ridden than the general population

Mental health problems and conditions such as dementia may also result in people having difficulties making decisions about money

People suffering from depression often have trouble prioritizing their spending and go for a quick fix instead of the essentials.

Debt can be a considerable burden, made worse by dealing with it alone.
Discover and Define phase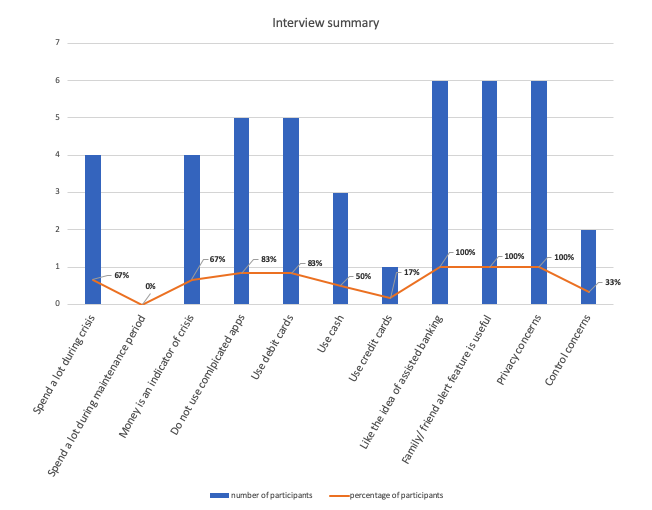 Interviews
During the 'discover and empathize' phase of my project, I researched mental health statistics and interviewed participants from the Mental Health Association of Rockland and through Facebook support groups.
Some guiding questions around which I designed my interviews
What are the financial indicators of an impending mental health crisis?

What methods do people use to manage money?

What can a bank do to reduce debt for people with mental health illness?

How does complexity of an app or a feature affect the likelihood of it being used?

What are the questions and concerns in using the assisted banking feature?
Summary of Interviews
With a sample size of 6 participants who cope with mental health problems or addiction, I completed qualitative analysis. Here is a summary of the interviews:
4 out of 6 participants said that they spent a lot of money during a mental health crisis and that money was an indicator of an impending crisis.
5 out of 6 said that they do not like to use complicated apps. Managing money itself is very stressful for them.
5 out of 6 said that they prefer to use debit cards over credit cards when they are well.
3 out of 7 use cash and debit cards
6 out of 6 liked the idea of assisted banking, the alert to family/ friend feature and also had concerns about privacy with this feature.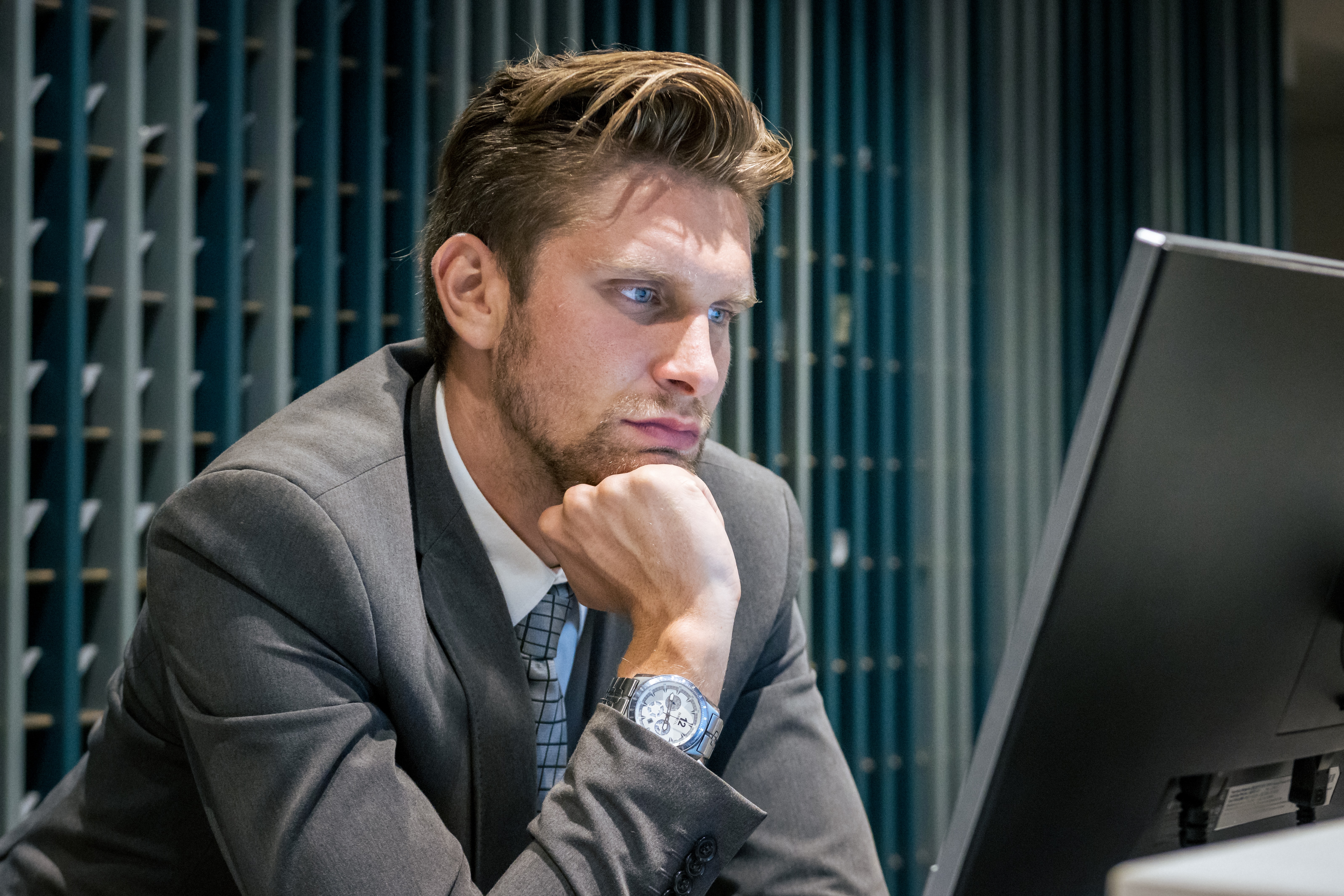 Personas
Throughout the design process, I referred to a persona I created based on the interviews.
Gary copes with mental illness and is currently financially stable.

He is frustrated at the lack of tools to secure his family's future.

The interviews and persona reminded me that privacy and control of how much and how often information was shared was a big concern. That dominated my final iteration of the design.

Also, I narrowed down my users to people with a steady income and coping with mental health fairly well.
How might we use design, friends, and banks to help people coping with mental health illnesses to manage money?
Assisted Banking and the need for it
There seems to be a perpetual relationship between mental health struggles and financial struggles. A person's mental health challenges can create financial challenges, those financial challenges can create more mental health challenges, and the cycle rarely ever stops.
Assisted Banking is for people with some source of income, single or in relationships, who need assistance with managing money during a mental health crisis.

My vision is that the bank assists the customer to monitor expenditure and alerts a third-party trusted advocate of unusual transactions and expenditure patterns without giving details. This can in turn serve as early intervention for bank customers and family members.

For someone dealing with mental health problems, it may be vital to have a family member or trusted friend and the bank assist because many times the "what" and "how much" of expenditures are indicators of impending crisis.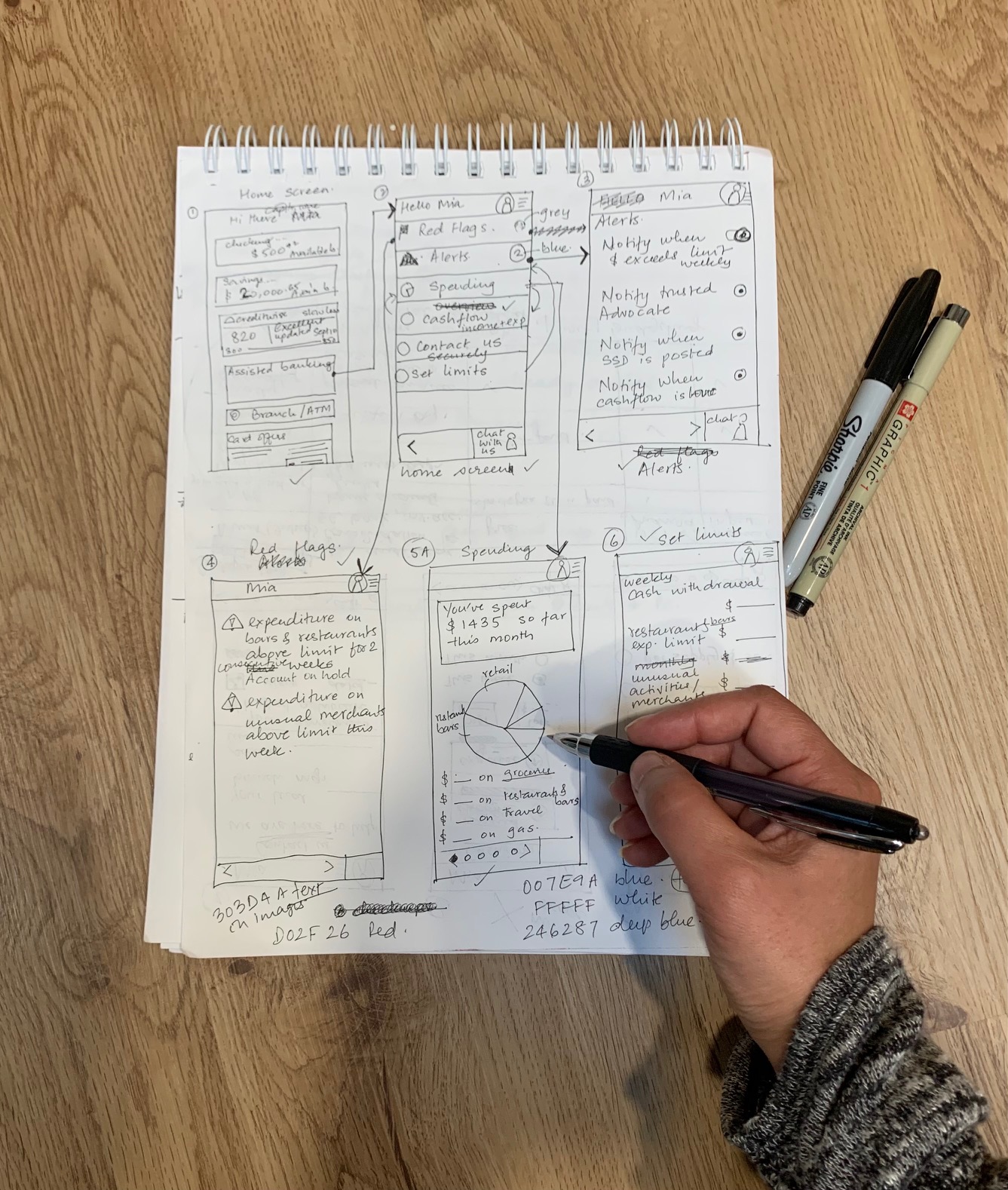 Sketches
I started the UI design process with sketches on paper. This is the way I iterate through a few design options quickly and also to identify how the screens will flow and how the users will interact with the product.
I came up with ideas on what would be useful to users.

Simplicity was key as most users did not use apps because they were complicated and needed constant input. Users did not have credit cards or tried not to use them, debit cards and cash were primary methods of managing money.

I had three conceptual ideas of which I chose assisted banking.

The assisted banking feature was more in line with user needs, less cumbersome, and had more control, it would not be a paid app and a bank would support users directly.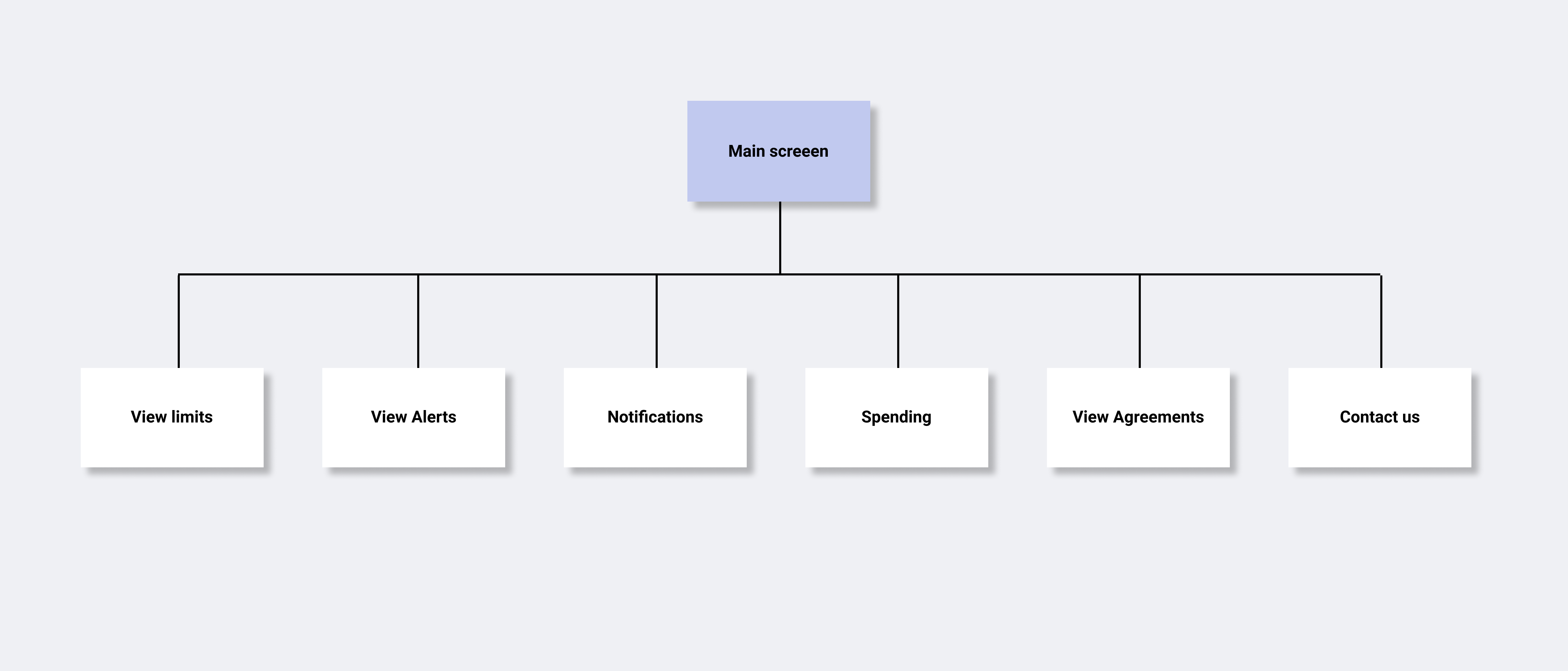 Site map
The site map and Information Architecture are simple.
Hierarchical IA

Avoided screens with opportunities to scroll quickly.

Deliberate user flow to slow down decision making
Wireframes
To quickly test the feasibility of my idea with 2 participants and to present basic layouts, I created Wireframes.
Findings:
I realized that allowing users to make changes to alert settings, beats the purpose of the feature.

Also, the intention is to increase friction and steps before they decided to go over the limit they have set for themselves.

I also realized that I needed to make an assumption that there would be a legal agreement between the bank, a trusted advocate, and the user which describes how much, who, what, and how often of the expenditure and their alerts to the user as well as a trusted advocate.
After a couple more tests and showing the design to a mentor, I realized that the agreement could be part of the onboarding of the feature.

Hi-Fidelity Mockups and prototype
Onboarding screens showing the setup of agreement between Trusted Advocate, Bank and Gary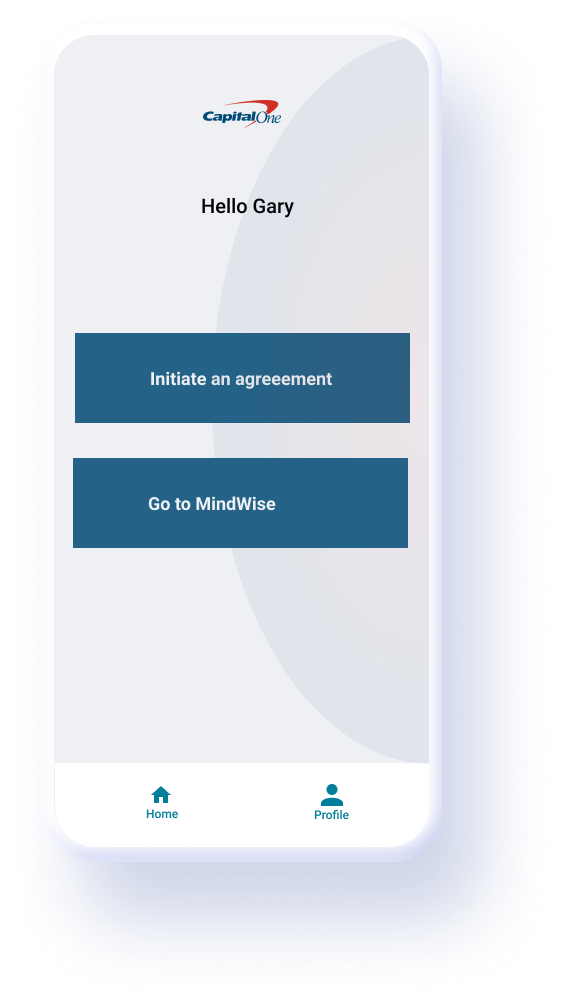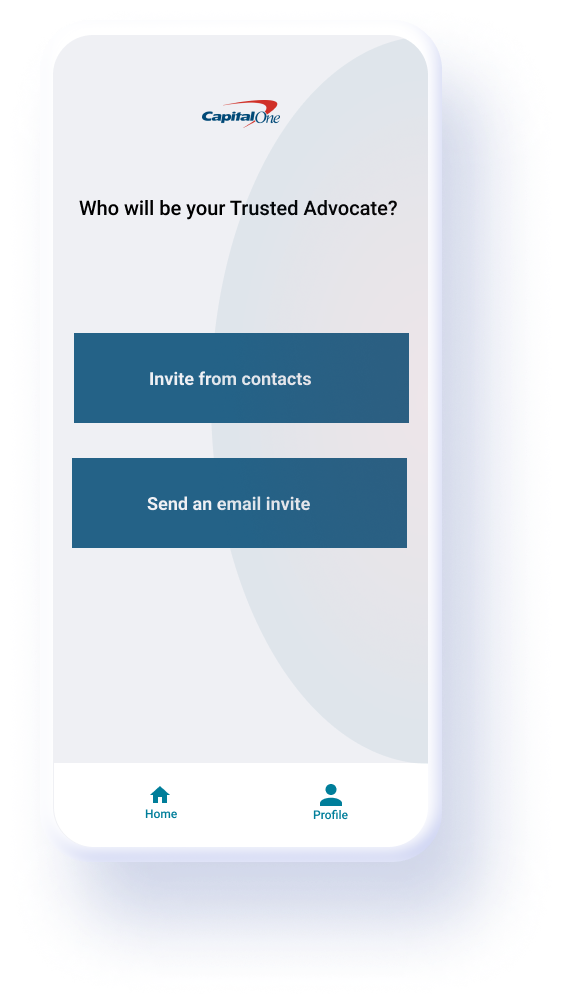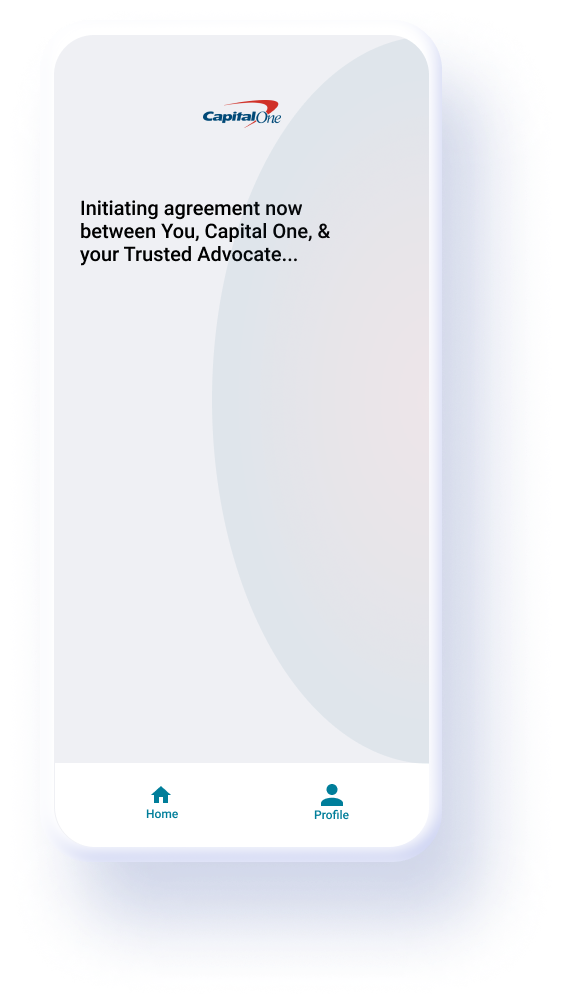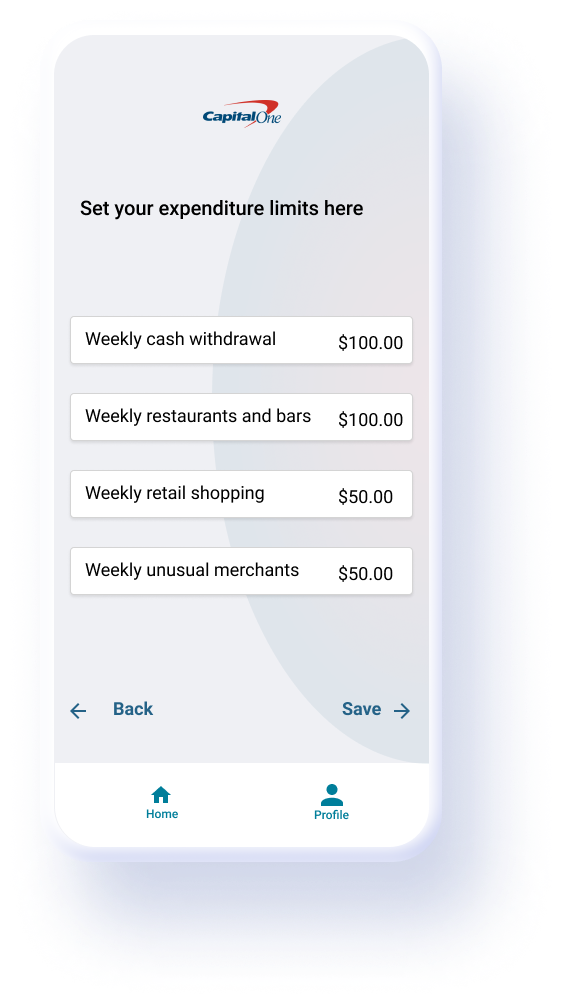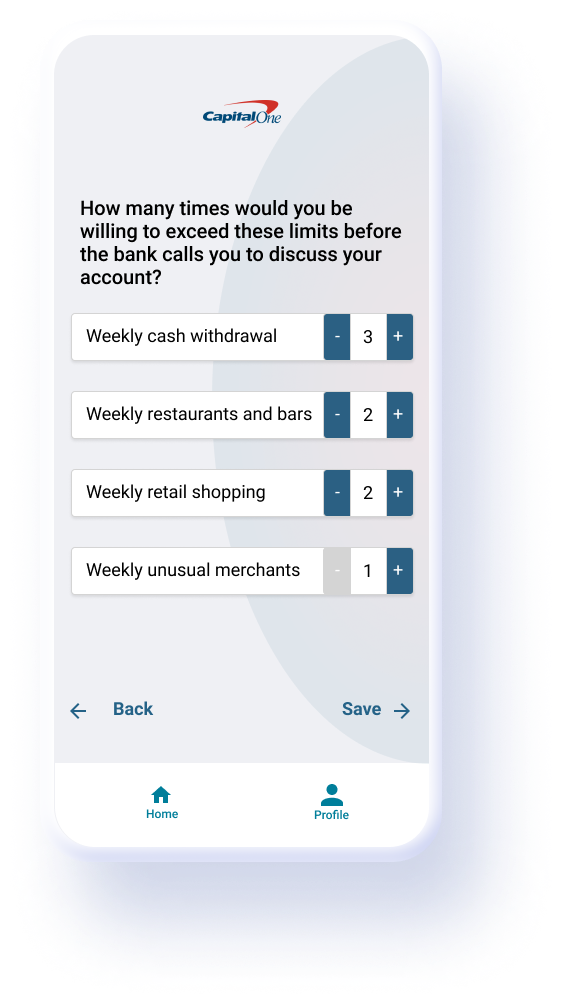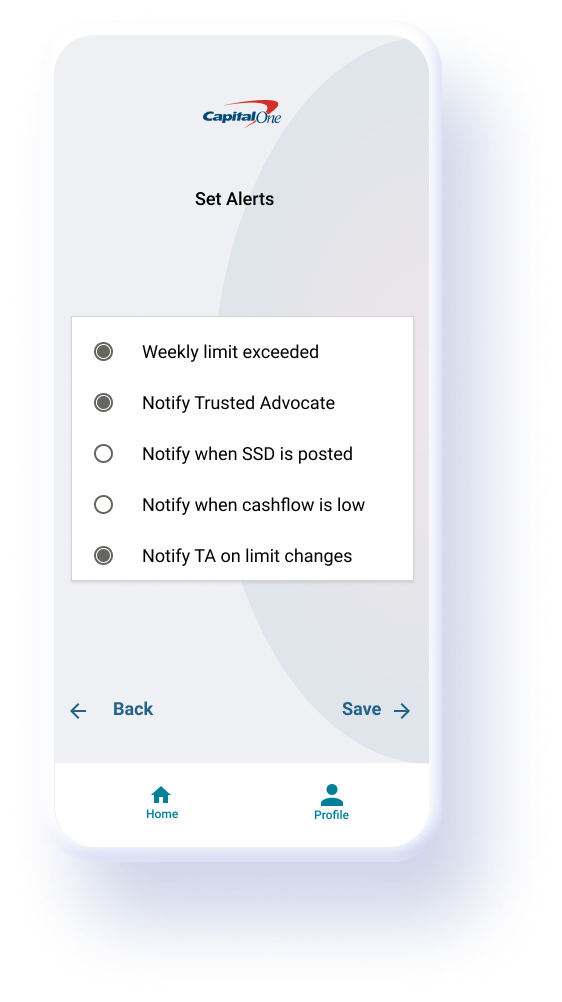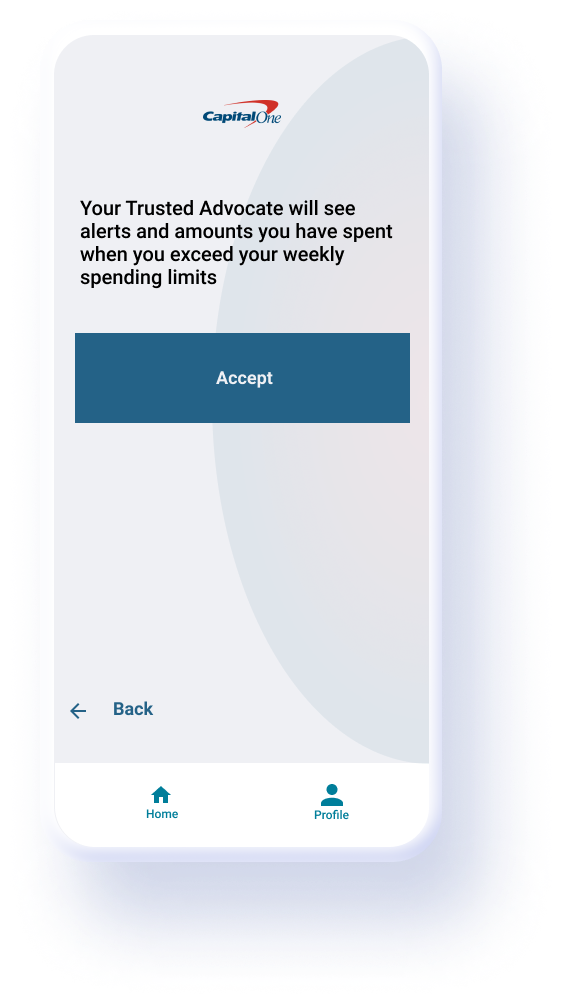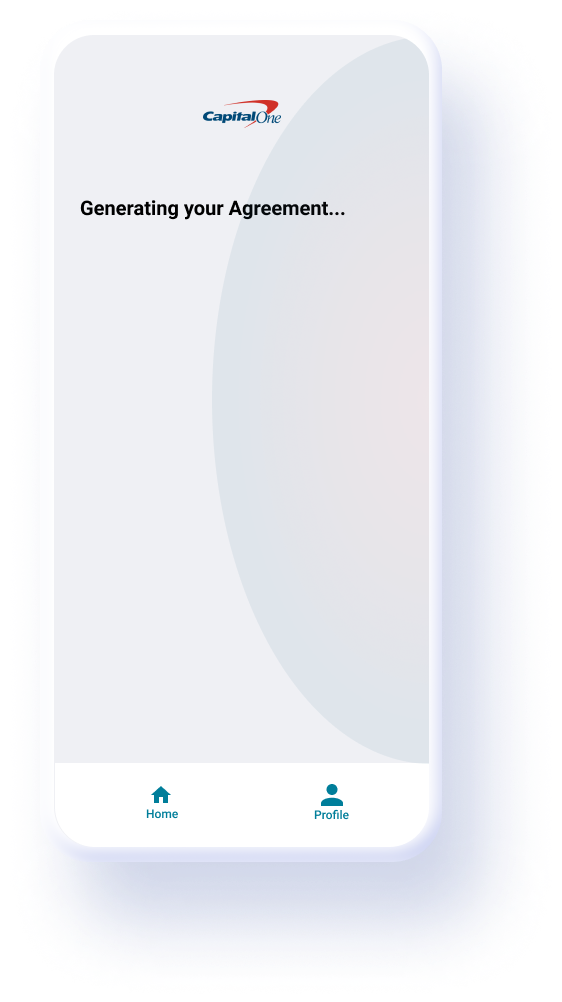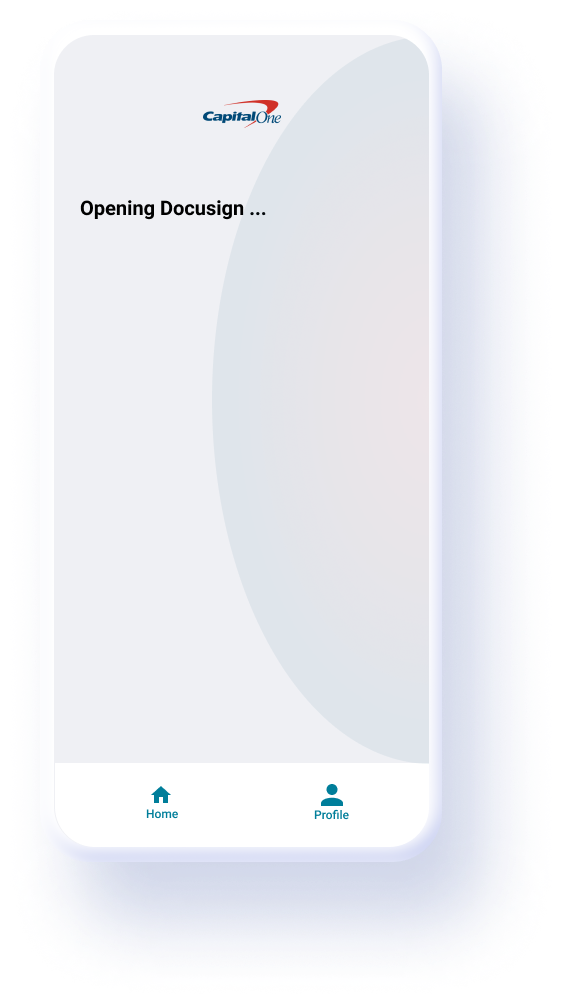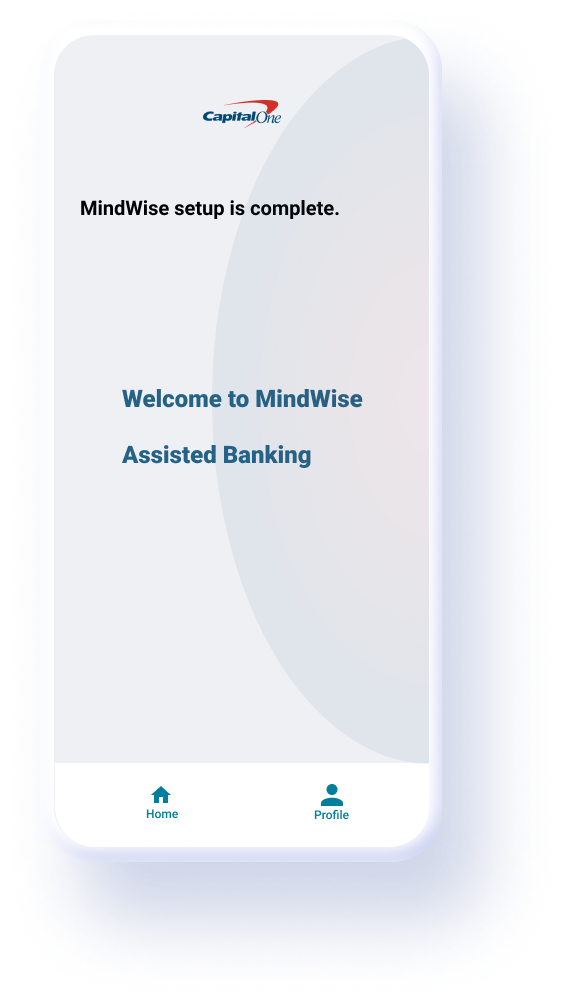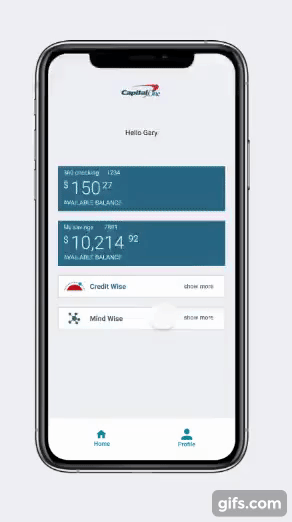 View only screens
After onboarding and signing the agreement, Gary can choose to access Assisted banking's view-only screens.
Design Principles
To create a clean corporate look and to meet the needs of users I decided the style should not be too bright but more calming to look at.

By enabling familiar and consistent interactions, I created a simple design.

Deliberate user flow - Added friction to slow down decision-making.

Gary has more control over visibility, frequency, and categories of notifications and can set personal expense limits.

I worked on three iterations: the first had all the functionality, design, necessary interactions, used the design system, and accessibility guidelines.

In the second iteration, additionally, I worked on different options for background colors and visual design.

The third iteration was the final iteration which included onboarding and is presented in this case study.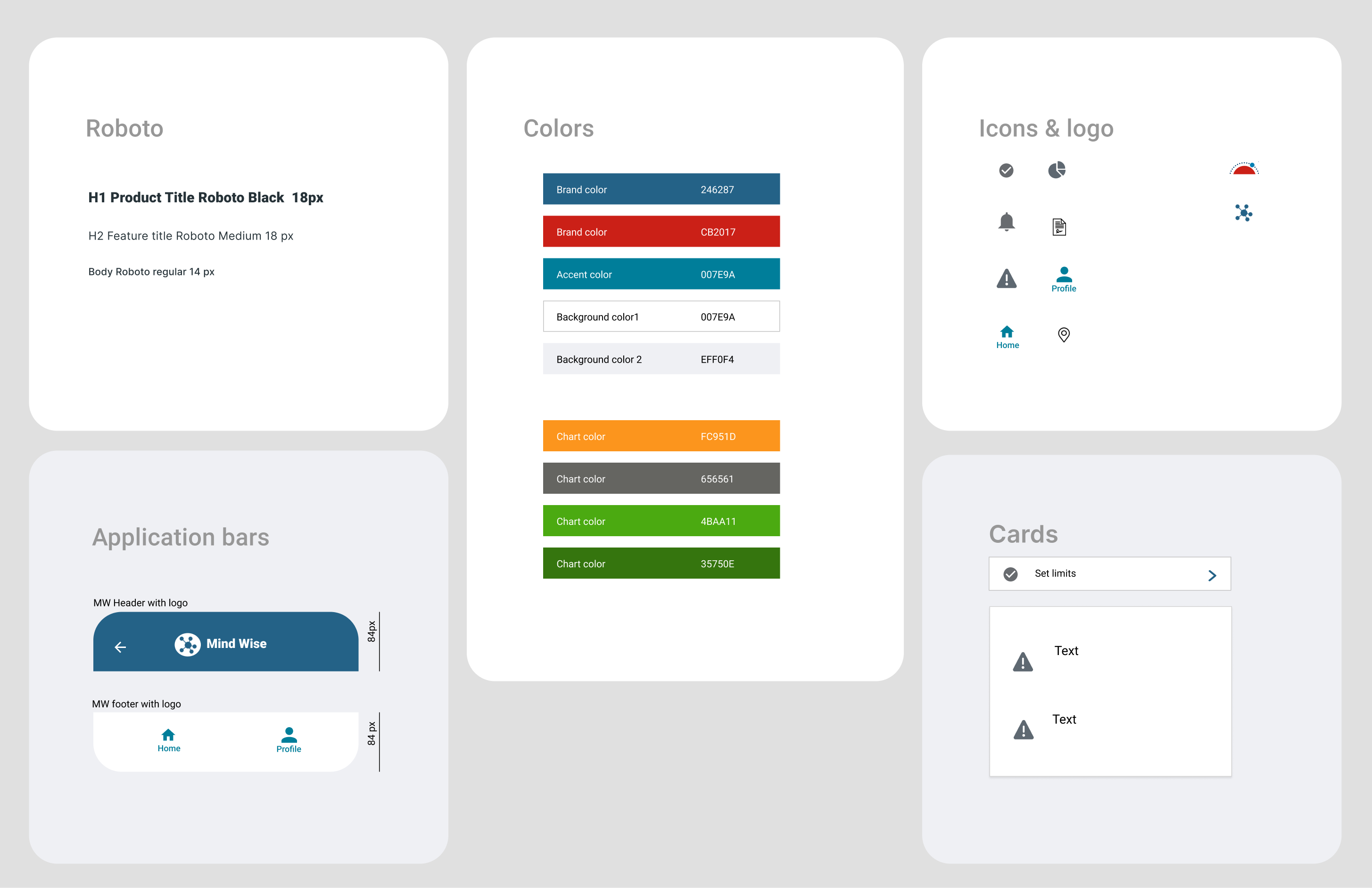 Component library, style guide
I used the 3 colors, that Capital one has in use currently, as a base to develop part of my style guide. This maintained coherence with the existing product.

Future iterations will be easier and quicker.

I learned to use components.
Success metrics I would have liked to track but could not because this is a concept design.
I would track the number of times users open the app and session lengths. This would indicate popularity and stickiness (Daily Active Users/ MAU).
Customer lifetime value (CLV) net profit generated over time.
Reduction in write-offs and revenue losses which are accounted to debt related to mental illnesses
However, I conducted a usability test, the aim of which was to get feedback on the simplicity and ease of use of the prototype and to ascertain whether the privacy and control concerns were addressed.
The users who tested the prototype were a mixed group of people, some coping with mental health issues and others without.

I used moderated testing and observed how users interacted with the prototype as well as identified where the frustrations were.

After each iteration I tested the prototype with a user, to ensure that the design evolved into a better product.
Usability Test findings after the final iteration are as follows:
3 out of 5 users think that putting an account on hold may be a bit much in terms of creating friction to reduce incurring debt.

5 out of 5 users found it very easy to navigate the screens and to look for information.

5 out of 5 users found the style soothing, calming, and corporate-like.

5 out of 5 users thought that readability and contrast were adequate.

1 out of 5 users thought that there must be a category of person-to-person payment limit.

1 out of 5 users thought that there must be a category limit of donation/charity.
What I learned from this project
I learned what the needs and pain points are of people dealing with mental health problems are with managing money, and what their primary concerns with a banking feature like this are.

I also realized that while researching users one could trigger intense emotions in users and one has to be sensitive to that.

User feedback during the design process helped me understand how the product is used, what they expect from it, and what their concerns are.

I also learned to present my ideas and work to different users.
Next steps and limitations
The project would have been more effective if business stakeholders were involved to gauge the feasibility of this concept, and without knowing what the challenges are from the bank's perspective (research).

Input from other stakeholders like care providers who could be trusted advocates, mental health clinicians, developers, are also missing in this project so far.